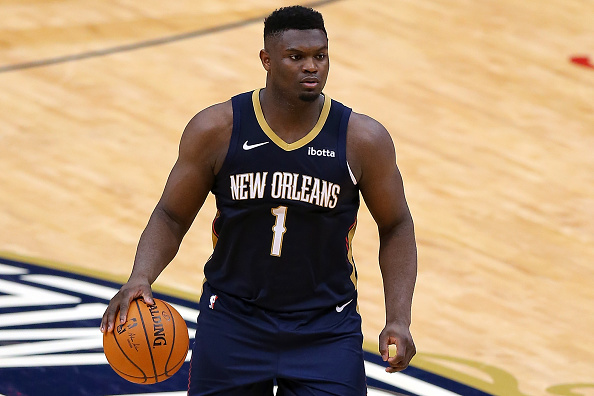 NBA Player Props: Keep Rolling With Zion
Adam Ronis pores over the stats to bring you his Player Props for tonight! Zion Williamson has been great of late, so you need to see his player prop over on DraftKings!
Adam Ronis | Wager Alarm | NBA

Turn your wagers into winners with our new picks passes. Learn, Bet, Win!
Click here
to view subscription options.
PLAY OF THE DAY

Williamson has been going over his points prop, even though the number has gone up. This is too good of a spot to back away. The Pelicans have lost seven of eight games and are in a great spot against Minnesota to get a win. The Timberwolves allow 116.2 points per game, are 28th in defensive efficiency and opponents are shooting 47.5 percent from the field. The Timberwolves allow the second most points per game in the paint at 51.7 points per game and Williamson gets most of his points inside and at the free throw line. Williamson is averaging 23.7 points per game and has scored at least 26 points in five of his last six games, including 59 points against a good Jazz defensive team in the last two games.
Pick: Over 24.5 Points (-110 on DraftKings Sportsbook)

We hit on Markkanen's over three-pointers last night and now we go this points total, which seems too low. It's a difficult matchup against a good Lakers team, but the Bulls are home and play at the second fastest pace in the NBA and average the fourth most points scored in the NBA and the Lakers are seventh. The Lakers are fifth in offensive efficiency, while the Bulls are 11th. The teams met once this season and the Lakers won, 117-115. Markkanen missed more than two weeks due to health and safety protocols and is averaging 21.5 points per game in four games since returning and hasn't scored fewer than 16. He has played in eight games and has gone under this total one time and that was due to playing 19 minutes.
Over 15.5 Points (-122 on FanDuel Sportsbook)

This is a surprising number. The only concern is Jokic played 40 minutes in an overtime win against the Suns, who Denver will play tonight again. Jokic had 31 points and 10 rebounds last night. He is averaging 25.5 points and 11.3 rebounds per game. Jokic has played in two back-to-backs and gone over this total in both. He has gone under nine rebounds only one time this season and hasn't scored less than 17 points all season. Jokic has taken 27, 21 and 23 shots from the field over the last three games and the Suns are one of the worst teams at defending centers.
Over 31.5 Points+Rebounds (-115 on BetMGM Sportsbook)

It hasn't been the best start to the season for Ayton. He hasn't been aggressive and hasn't been scoring much. All of a sudden, he is starting to emerge and play with confidence. Ayton averaged 8.8 shots from the field in his first five games. In his first 11 games, he only took 13 shots from the field once. In the last three games, Ayton has taken 14, 15 and 13 shots from the field. He's also playing more minutes with at least 34 minutes in five of the last six games. Ayton had the same matchup last night against Denver and had 27 points in overtime. He has scored at least 18 points in three straight games. Denver is 25th in defensive efficiency.
Over 16.5 Points (-125 on BetMGM Sportsbook)

Turn your wagers into winners with our new picks passes. Learn, Bet, Win!
Click here
to view subscription options.
Player News
{{item.player.name}}
{{item.position}} - {{item.team.market}} {{item.team.name}}