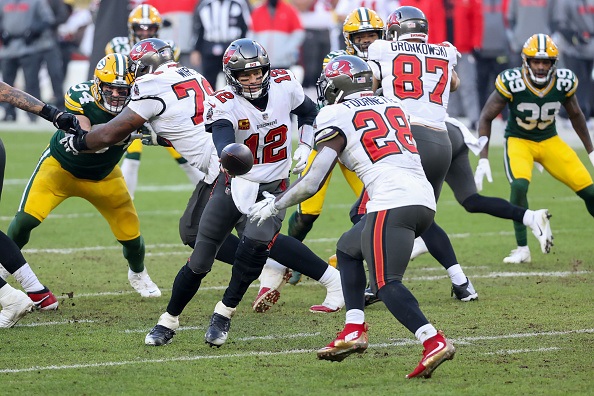 Super Bowl LV: Best Bets
Jon Impemba brings you his Best Bets for Super Bowl LV including multiple player props and touchdowns props to help you cash those tickets tonight!
Jon Impemba | Wager Alarm | NFL

Turn your wagers into winners with our new picks passes. Learn, Bet, Win!
Click here
to view subscription options.

Total Carries: I saw this prop and I couldn't bet it quick enough. Overconfidence?? Possibly, but I look at how Fournette has been used throughout the playoffs, the fact that he has exceeded this total in every playoff game and I think Tampa looks to use the run to control the clock and keep Mahomes off the field. Will Ronald Jones suddenly become the lead back in the biggest game of the season after taking a back seat for the last three? I can't imagine so.
Pick: Over 11.5 Carries (-112 DK Sportsbook)
Total RU Yards: Fournette is averaging 70.3 rushing yards per game in the playoffs yet his rushing prop total for today is well short of that. If you are buying into the over 11.5 carries as I am then it's a no-brainer to look at 48.5 yards rushing and smash the over on that bet so that is exactly what I am going to do. The Chiefs defense ranked 31st in DVOA against the run this season.
Pick: OVER 48.5 rushing yards (-125 DK Sportsbook)

Total Yards RU+REC: My love for Fournette in this game is matched for my lack of faith in the Chiefs rookie running back who has been a non-factor down the stretch and throughout the playoffs. With Darrell Williams being the lead back for KC and now an active Le'Veon Bell how are we to expect that CEH will not be a meaningful part of this Chiefs offense. The Tampa defense is also very stout against the run which makes it seem likely that CEH would need to gain most of these yards through the air..I just don't see it happening.
Pick: UNDER 48.5 Yards RU+REC (-106 DK Sportsbook)

First Touchdown: Who doesn't love these first touchdown props? When I saw the number on Mike Evans I knew this was an auto bet for me as he sits at +900 right now on the DK Sportsbook. Evans had a career-high 13 touchdowns this season and has scored the first touchdown in each of the last two Bucs playoffs wins over the Saints and Packers. Let's let it ride!
Pick Mike Evans First Touchdown (+900 DK Sportsbook)

Jersey Number of First TD: Ok, let's check out one of these "fun" prop bets, shall we? This one was brought to my attention while producing the Wager Alarm Livestream on Friday and I like it. Here we want the jersey number of the player to score the first touchdown to be UNDER 24.5. Here are the players in this game with a jersey number that is under 24.5 OK? Mike Evans, Chris Godwin, Tyreke Hill, Mecole Hardman, Sammy Watkins, Scotty Miller, Tyler Johnson, Tom Brady, Patrick Mahomes, Demarcus Robinson etc., etc... Basically... As long as it isn't a tight end, running back or Antoinio Brown we win this prop. Those are pretty decent odds.
Pick UNDER 24.5 Jersey Number to score First TD (-103 DK Sportsbook)

Turn your wagers into winners with our new picks passes. Learn, Bet, Win!
Click here
to view subscription options.
Player News
{{item.player.name}}
{{item.position}} - {{item.team.market}} {{item.team.name}}